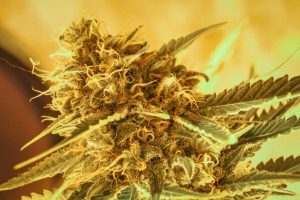 Finally, you've gotten through 'The Veg Cycle' ! (Whew) Congrats! It is now time for the most arduous but rewarding part of the journey to great looking and great tasting buds.
WeGrow is here to help guide you through the essentials of proper flowering. From start to finish, if done the right way, the benefits of your time and attention will come back to you for months and perhaps even years to come.
Hopefully through timely plant management you've been able to get your garden looking green, strong, and ready for flowering. And now, let's kick things into 'High' gear. Ready… Set… Grow!
How/When do I start the Flowering Cycle?


Many first-time growers think that the bigger they make their plants during the few months of vegging the better. Although this isn't necessarily the case, there are certain basic conditions that need to be met so that you make the best out of your plants.

Traditionally, 2 months of vegging and 2 months of flowering is the standard for most growers. Whether you have 6 plants or 60, the key to knowing when to induce flowering lies within the plants themselves. Pay attention to them and they'll give you the signal.
By this we mean that you should be able to tell that the main branches are strong, flexible and putting out shoots of new and developing branches. No matter the height of the plant, once the branches turn harder and less freshly green they are now ready to handle the weight of the incoming buds.
Consequently, as your plants get to the point of flower they will begin to produce an unmistakable scent dependant on their strain. It's almost as if they're enticing you to let their full beauty show by beginning the flowering cycle. If you begin to see, feel and smell these things — it's time!
First, make sure your flowering environment is entirely free of light exposure. For the first 36 hours of flowering, be sure to keep the lights completely off. After the 36 hours, you are now able to start the 12hr on/12 hr off cycle. Within the first week, you'll start to see elongated hairs protruding from the branches, and by the 3rd week you'll start to see your first young buds.  
Essential Nutrients for Flowering
With so many different nutrient products on the market these days it's important to know which ones are really needed. As your plants move into their first week, you'll see the start of some growth, and by the third week they'll have buds developing.
Therefore, during the 2nd week it is important to introduce measured amounts of PK (Phosphate & Potassium) solution. This will boost initial growth for the young plants. If deficiencies appear, be sure to implement some CalMag (Calcium Magnesium) supplements into your regimen with each feeding.
For small to mid-sized growers and especially for those that are just starting out, it is best to start out with a simple Bloom solution. This will kick-start your flowering cycle by providing such essential fertilizers as bat guano (don't worry, it's processed in the solution and doesn't smell!), earthworm castings, rock phosphate & kelp, in addition to the PK. WeGrow recommends FoxFarm for organic gardening.
Cropping/Effective Plant Management


Growers who pay attention close attention to their plants will also do well to carefully adjust them as needed during flowering. By using a process called 'Lollypopping' (which we will cover more in depth in an upcoming blog), you meticulously cut the unnecessary parts of the plants that hinder the growth of the upper canopy.

If possible, be sure to change positions (without disturbing their balance) of the plants every couple of days to make sure they get uniform light coverage. By reaching and stretching in different directions to catch light your plants will challenge themselves to develop more and therefore yield a bigger and better harvest.
Notable Strains
NYC Sour Diesel –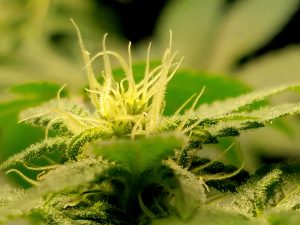 For a great 50/50 indica/sativa hybrid, look no further than this classic strain. It has a great aroma, unmistakable taste, and a high that will have you feeling great for hours. This one test higher on the yield spectrum and takes 49 days to flower properly.
Purple Headband –
This aesthetically pleasing purple princess is another great 50/50 hybrid. Although not quite as big of a yield as the Sour Diesel, this strain more than makes up for it with its pungent smell & taste. – Also at least 49 days of flowering for this one.

The Flowering cycle is the most attention-demanding but also rewarding period in your growing experience. If you do it right you'll reap the benefits for a long time. But, if you do it wrong you've just wasted 4 months of hard work!

Follow WeGrow to ensure that doesn't happen. Stay tuned for more information, tips, tricks & hacks to get your garden looking grand! Happy Growing!