Cultivation Hacks: 'Fimming' & 'Topping'
Here at WeGrow, we like to see our growers thrive! That's why we arm you with all the latest and exclusive cultivation tips to make your harvests the best they can be. Because not everything concerning your plants' health has to come from the inside of the plant, WeGrow is here to help. 'Fimming' and 'Topping' are two techniques that all growers should know.
Timely cropping is effective for many different varieties of plant life, but it is especially important for indoor cannabis cultivation.  
Keep reading for an exclusive guide to the specific advantages and uses of 'fimming' and 'topping'.
What is 'Topping'?
First, it is important to know what to look for when you are getting ready to crop and 'sculpt' your plants. Here, growers should be looking for the little fresh nodes of leaf that shoot out of the main branches of the cannabis plant during 'vegging':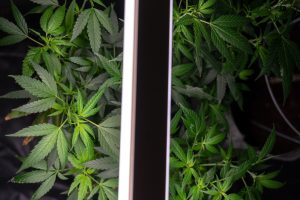 Within this node, there is a new branch waiting to form. 'Topping' is the act of splitting open this kernel and snapping off the main vein. The more kernels you snap off the more 'tops' you will have. As you gain experience in this, the act will become natural to you. Doing this will create another branch, and therefore more budding sites.
What is 'Fimming'?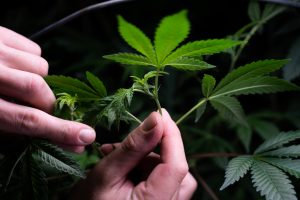 Fimming can be described as "topping to the max". With this technique you are taking the same node, finding its kernel and making a broad cut. Holding it with your thumb and finger and use your nails to make a nice pinch:
Unlike topping, here you are leaving the main vain intact and instead making sure to crop the leafy parts above it. Similarly to topping, however, this will cause the plant to widen and to create more budding sites.
What's the Difference?
For most growers, the main difference here depends largely upon the size of your grow. If you have a lot of room to work with, fimming would be your best bet because it will really make your plants wide and robust. More branches means more buds. It is also beneficial if you are training your plants to grow more squat than tall.
If you have limited space but still want to ensure optimization, topping will be your best choice. Your plants may not have the width of those that have been fimmed, however you will still get extra offshoots and more buds with this method.
Cannabis cultivation is a science that depends on the diligence of its scientists. Small to mid-sized growers in the 21st century are lucky to have lots of information at hand. Growers who know how to crop their plants properly will surely reap the benefits of their efforts.
Follow WeGrow for more exclusive cultivation techniques, tips & tricks, and current news that will make your harvest the best it can be! Happy Growing!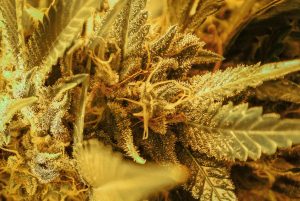 YOU MIGHT ALSO LIKE THESE