WeGrow's exclusive weekly guide to current happenings across the cannabis industry. Keep reading to find information on legislature, trends & news.

Cannabis Expo rolls into Ottawa (via Ottawa Citizen)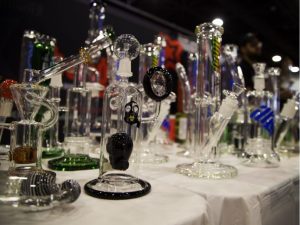 Cannabis & Hemp Expo's Kevin Blackburn's assertion that cannabis has been in the spotlight "for a few months now" is putting lightly the international scrutiny that has been swirling for the better part of a decade. Legalization efforts have become exponentially prevalent, and therefore it is safe to say that the public eye has been trained on legal marijuana for a more than while.
The expo touts cannabis cooking exhibitions, seminars on the future of the industry, grow equipment vendors and any other associated legal entities. Events like Ottawa's Cannabis & Hemp Expo are necessary to eradicate the stigma of cannabis. Once the mainstream public realizes that legality is being upheld it will naturally gravitate towards cannabis and its many advantages.
It may take a while for government sanctioned seed banks to be able to supply Canada with the seeds new growers will need. Luckily there already are resources. Follow Ace The Grow for product help, and WeGrow for grow help & advice!
Local Shops target Cannabis Growers despite Lack of Seeds (via ChatNewsToday.ca)


The Canadian "seed dilemma" is still at the forefront of the recent federal legalization. Citizens still have no government sanctioned places to buy seeds. Therefore any plants propagated with alternatively obtained seeds are illegal. This hasn't stopped savvy businesses owners from starting to get ready for the inevitable growing rush that will come.
Unsurprisingly, the major producers in the Canadian cannabis game do not even have seeds on the radar. Companies are focusing instead on harvested plant product (dried flower, pre-rolls and edible oils). Producers are clearly attempting to capitalize on the green rush while the iron is hot.
It is only a matter of time, however, that the Canadian public will be granted access to seed banks. Citizens will therefore be in control of their own self-care. Because genetics and growing are both delicate processes, the company Organigram asserts, "Should we decide to offer genetic materials for home growing, we will want to ensure Canadians who choose to work with our genetics are educated, prepared and set up for success." – With resources such as WeGrow and Ace The Grow, being prepared is not a daunting task but an exciting endeavor.
Assembly speaker promises action soon on weed, minimum wage (via NJTVonline.com)

It appears New Jersey is soon to join the recent recreational marijuana legalization trend. Medical marijuana has been in effect for some time now in the state. Now a bill allowing adult use is set for a vote. 
Women, minority, and veteran-owned small businesses will be getting preferential treatment. This comes after a public backlash over the hypocrisy of legalizing something that has been detrimental to the disenfranchised.
Small-time marijuana offenses are set to be expunged according to the new bill. This would also go a long way to even the playing field. The bill will remove judicial set-backs that often prevent those with blemishes on their records from benefiting economically from cannabis legalization.


Michigan voters approve proposal to legalize recreational marijuana  (via Click on Detroit) 



Michigan recently made another landmark decision. It became the first state in the midwest to legalize recreational pot for adult use. The overwhelming margin by which Michigan residents approved the measure is another indication of the coming trends in legislature throughout the nation.
Sweeping Democratic victories in the midterm election have ensured a progressive nature to the upcoming political climate. Therefore, the issue of cannabis legalization will continue to be at the forefront for years to come.
This will be a big boost for places like Detroit. And, maybe the citizens of Flint can finally be provided with clean water. These are the dreams of those that view cannabis not only as a great medicine, but also as an economic savior.
Of course, such as in Colorado the change will not be an instant one. While the language of the new law has been offered, it will still take a long time to develop individual policies on a state level. Luckily, Michigan lawmakers have many templates to look at when deciding on the appropriate policies.

Can you legally grow your own pot? Yes – but no. At least for now. Here's why  (via Global News)

Should individuals be allowed to cultivate? Of course, we believe the answer is unequivocally and decidedly 'Yes', however not all (mostly lawmakers) are convinced. Yet. Lawmakers are scrutinizing all the specific ins and outs of cultivation, and understandably this is becoming a long and arduous process.
As with anything that is concerned with any government entity, all good things come with a Catch-22 which in this case comes in the form of not being able to purchase legal seeds (because there are no places sanctioned to sell them).
They are working on it though. It seems that the public will be able to purchase seeds within 3 months, just in time for the spring planting season. The countryside and everywhere else will certainly be smelling and tasting the sweet fruits of their efforts. However, existing medicinal users are beginning to be pushed out due to the large numbers of recreational users flooding the market. Expedient measures taken to get seeds to the public will work well to cover that demand.

Be sure to keep following WeGrow for the latest news, tricks, tips & hacks to keep you informed on all things related to the cannabis industry!